6 meals worth traveling the world for
We love to eat.
We always talk about breakfast being our favorite meal - and it is - but we don't discriminate against lunch or dinner (or afternoon snacks or late night meals or anything in between)! It's so fun to eat local food as you travel, and we feel like it's one of the best ways to truly "taste" a culture! When we were planning our honeymoon years ago, one of the factors that pushed us to choose Thailand was the chance to eat authentic Thai Food! And, well, it didn't disappoint, and we've been traveling with our taste buds ever since.
We've been lucky enough to eat some incredible meals in some incredible places around the world these past few years, and we wanted to share our favorites! Not-so-coincidentally, most of these meals were enjoyed in places we would highly recommend for your next travel destination!
Here they are- eat your heart out and plan your next gastronomic getaway ASAP!
1. POSITANO, AMALFI COAST - Dinner at Li Galli, Hotel Villa Franca
Perched on the top of a hill overlooking Positano's iconic shoreline and just below the Amalfi Coast cliffs, Li Galli is the mouth-watering fine-dining restaurant found in the luxurious Villa Franca Hotel. The hotel alone is worth the trip (as if you need justification to explore the Amalfi Coast), but Li Galli's elegant flare on local cuisine is bucket-list worthy. Executive Chef Vincenzo Esposito and his team work in collaboration with multi-starred Michelin Chef Gennaro Esposito to create a brilliant menu of mediterranean fruits and vegetables, seafood caught in the bay below, and meat from the surrounding italian towns. We had the 7 course tasting menu, added the "cracked lemon" dessert and wine pairings (ok, we also had a cocktail or two before and after), and it was one of the most incredible culinary experiences we've ever had. It certainly doesn't hurt that you're eating in a intimate, open-air veranda watching the sky meet the sea as the sun sets over the cliffs. Impeccable service and attention to detail, warm attitudes and professional yet personable staff are just the cherry on top of a truly sublime gastronomic experience.
((See more about our stay at Hotel Villa Franca here))
2. KOH SAMUI, THAILAND - Lunch at The Black Pearl, Lamai Beach
We first visited Thailand three years ago on our honeymoon, and we've been obsessed ever since. It's an exotic tropical paradise, and the food alone is worth the 12+ hour flight. Thai culture is kind, warm and gentle, and the landscapes are as stunning as they come. Koh Samui ("Koh" is thai for Island, so literally "Samui Island") is a wonderful island just off the eastern coast of the mainland in the Gulf of Thailand. It's less developed and touristy than Phuket, but still very visitor friendly. We stayed at the secluded, romantic X2 Resort and rented a moped to explore the island, which is only 25 km long at its widest point. Lamai Beach is on the south eastern side of the Island, and it's much less crowded than the other beaches we visited (Chaweng Beach, for instance, is the perfect beach if you're looking for a party). Don't let that fool you though- in our opinion, Lamai the best beach on Samui. There's a perfect little restaurant called The Black Pearl at the edge of the sand with tables extending out over the rocks. Bare feet in the sand and the turquoise waves crashing just feet away, fresh green curry, pineapple fried rice and a couple of mai thais are literally the things tropical dreams are made of.
3. DUBAI, U.A.E. - Breakfast at Khaymat Al Bahar, Jumeirah Al Qasr, Madinat Jumeirah Hotel

If you haven't been to Dubai yet, add it to your list. It's an amazing, intriguing place and, if you can handle the heat, it's a must-visit destination. The futuristic city is literally built up out of a desert on the arabian peninsula, and the juxtaposition of old and new is a sight to see. You feel like you're teetering between a page out of Arabian Nights and a scene from the Jetsons. Emirates, the national airline, is our favorite carrier in the world, and with efforts to become a contender for top tourist destinations in the world by 2020, Dubai is extremely tourist-friendly. Our flight arrived early in the morning, so we jumped in a cab and drove out to the Al Qasr Hotel in Madinat Jumeirah. A friend told us about the poolside restaurant's unmissable breakfast buffet at Al Qasr, but we had to jump through a few hoops to get in without being hotel guests. A short runaround finally lead us to a concierge who was able to book us a reservation (begrudgingly, perhaps, but a reservation nonetheless). He directed us to a pickup point where a driver picked us up in a golf cart and escorted us through the sprawling property to Khaymat Al Bahar. We had the full breakfast buffet, and it was worth every penny. The endless spread was Lebanese inspired and gorgeously presented, but we were hard-pressed to think of a single thing they didn't offer. We ate outside on the patio, which sits on the edge of the beach and with perfect views of the Burj Al Arab. We ate enough food and drank enough lattes to feed a small army, but we couldn't bring ourselves to leave! As you know, breakfast is our thing- so we were in absolute heaven. ((if you don't have a reservation as a hotel guest, get there early to ensure you can get a table! We arrived around 7am))
4. DUBAI - U.A.E. - High Tea at At.mosphere, Burj Khalifa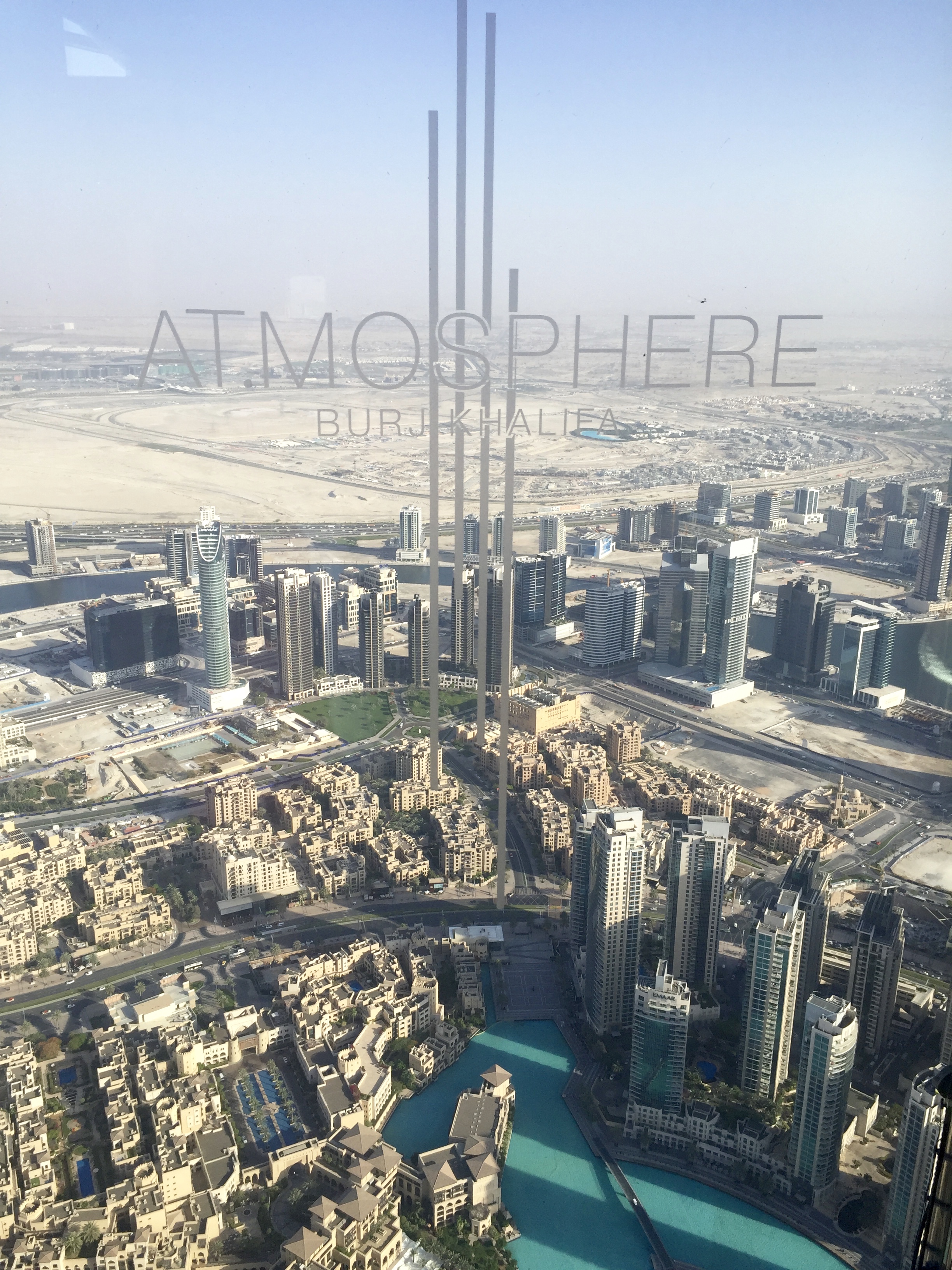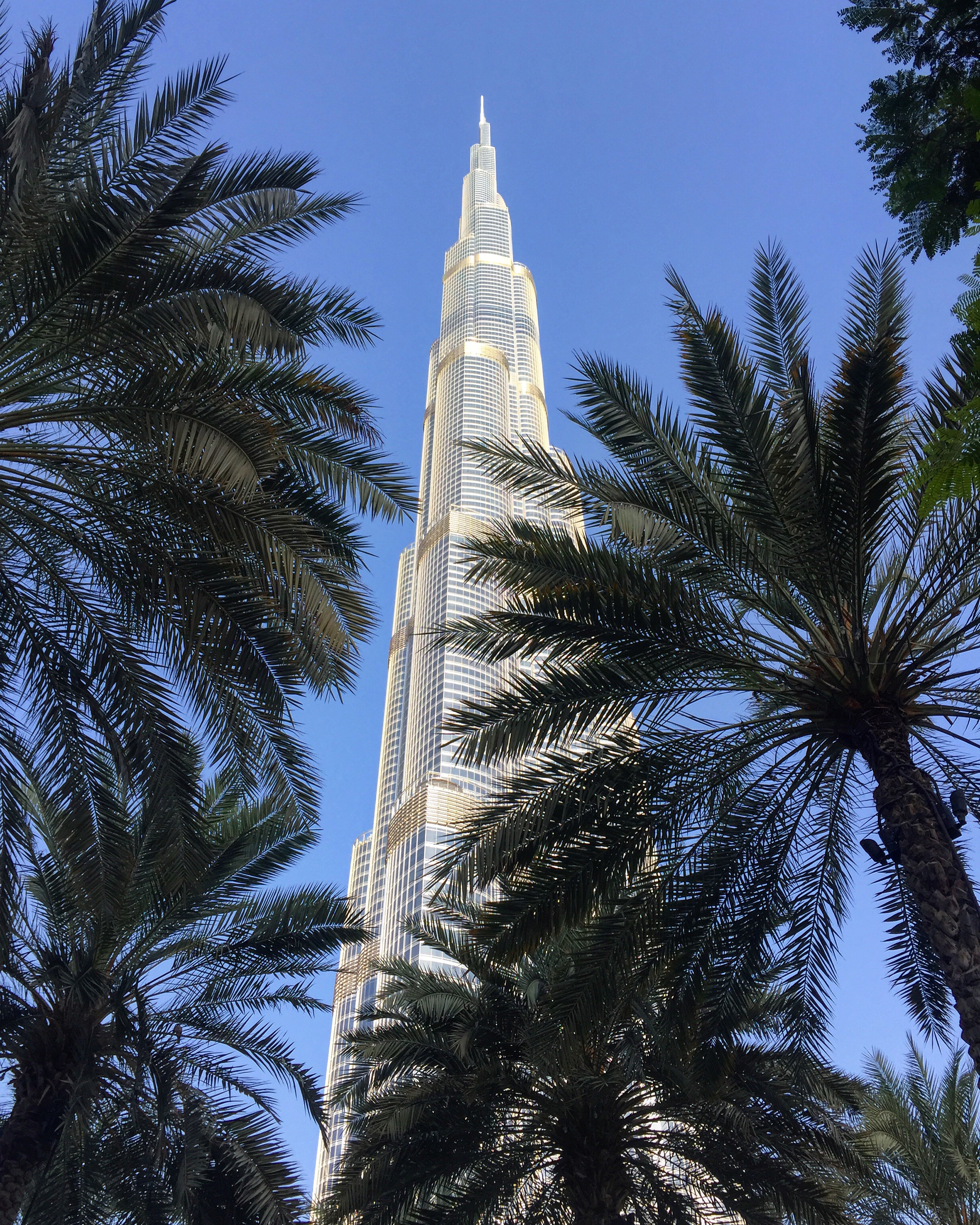 Ok, Dubai was so good that two restaurants in Dubai made our list. We knew we couldn't visit the UAE without a stop at the world's tallest building, the Burj Khalifa. Rather than just the observation deck, we opted into celebrating our anniversary with High Tea at At.mosphere lounge on the 122nd floor. It's definitely on the expensive side, but worth it if you're looking to splurge on an experience or celebration. You enter the building through the exquisite Armani hotel, where hostesses in flowing black Armani gowns escort you to the restaurant's lobby before you take elevators to the 122nd floor. From start to finish, the extravagant high tea experience was dazzling and delicious. We reserved our table early enough to score a window table, and the views of the city far below and not-so-distant desert was absolutely captivating. Teas, coffees, champagne, cocktails, and an endless flow of finger foods and pastries left us happily stuffed for the rest of the day, and the impressive service was the perfect way to celebrate our anniversary in extreme style.
5. KEY WEST, FLORIDA - Dinner at Latitudes Restaurant, Sunset Key Cottages
Sunset Key Cottages is a private island resort just off the west side of Key West, and it's gotta be the best kept secret in the Keys. You can only board the ferry to the Island if you're a resident, a resort guest, or have reservations at the restaurant or spa. It's a short leisurely ride to the landing at Sunset Key, and Latitudes restaurant stretches to the right of the dock on glorious display. Surrounded by palms and built in that endearing Florida Key style, Latitudes was voted #1 best restaurant in Key West, as well as top 100 most romantic restaurants in the US for 2017- and for good reason. The food was absolutely incredible from start to finish, and the service was professional, warm and fun. The patio is large yet surprisingly intimate, and the warm Caribbean breeze made it all the more dreamy. We're still dreaming about the food- crab cakes, beef carpaccio, scallops, catch-of the day and mouth watering sides, breads and desserts... and you can't possibly visit Key West without eating key lime pie at every chance you get! We've had a few key lime pies over this year, but this one was far and above anything we'd ever tried before. We'd dare to say that it's worth a trip to the southernmost tip of the US just for a slice of Key Lime pie at Latitudes.
((You can see more about our trip to Sunset Key on our post here))
6. NYC - Dinner at Kuma Inn, Manhattan's Lower East Side
Ok, we couldn't leave NYC off our list, even though we don't have any photos of this one! There are so many incredible places to eat in the Big Apple, but Kuma Inn is our absolute favorite. It's a locals-only type spot because it's not easy to find. The entrance is a barely-marked doorway off of Ludlow Street in the Lower East Side, and other than a red spray-painted sign on the doorframe, you'd never know you were there. The door leads you up a dodgy flight of stairs and through another unmarked door into the hole-in-the-wall cash only, BYOB joint. There's only a handful of tables, but the insanely delicious filipino, thai and southeast-asian tapas keep that place packed every. single. night. The food flows out of the open kitchen as it's ready and we have yet to eat something that we weren't completely obsessed with. The rice crepes, chinese sausage, coconut sticky rice and arroz valenciana are a few of our staple favorites, and the nightly specials are always amazing. They're only open for dinner, so grab a few bottles of wine or sake and find your way to the LES to experience the glorious gastronomic feast that is Kuma Inn.
Do you have a favorite restaurant that you'd travel just to eat at? Tell us in the comments below!
Here's to the adventure....
Zach + Tara Brose